Outdoor or indoor fountains add peace wherever they are placed. The soothing sounds of the fountains relieve stress and you start to relax right away when you're hearing or watching the cascading water. You can add a fountain to your landscape or tabletop easily and it's one of those things you'll be glad you bought and you'll wonder why you didn't buy one sooner!!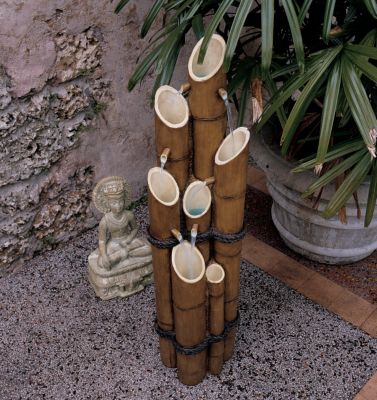 Cascading Bamboo Sculptural Fountain

Put the finishing touch on a special spot in your home or garden with the sparkling water music of this traditional, Asian-inspired fountain that gently spirals downward through seven bamboo pillars.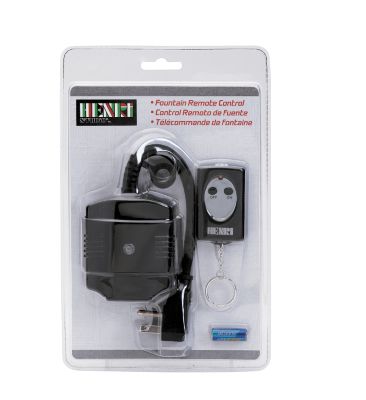 Fountain Remote Control

This convenient remote control lets you enjoy your garden fountain at the flick of a switch. Its receiver, equipped with a splash guard, simply plugs into a standard outlet while your fountain pump's power cord plugs into the receiver.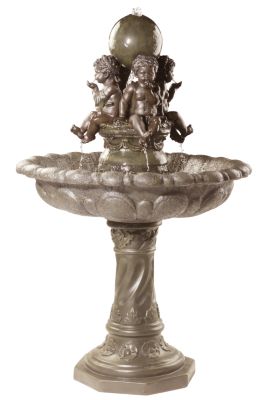 The Four Splashing Putti Sculptural Fountain

A sparkling stream cascades from the mouths of four chubby putti as they seemingly float on a center pedestal in this substantial Italian-inspired fountain. Imagine the sound of lovely water music falling from a bubbling orb, into a generous basin set atop an acanthus leaf pedestal fraught with flowers.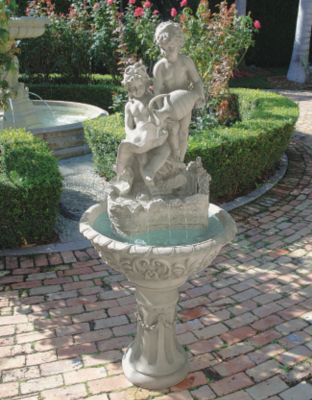 Portare Acqua Italian-Style Sculptural Fountain

With their chubby cheeks and gleeful expressions, the cherubic children in this charming statement piece create soothing sounds by sharing their sparkling aqueous gift with the leaves and stones below. At over five feet tall, our splendid fountain rests atop an Italian-style basin ringed with acanthus leaves sitting atop a classic pedestal.
Like those seen in traditional English gardens, this Asian symbol of peace is a lifelike, lost wax bronze statue with a verdigris patina. In bronze, a medium perfect for showcasing its graceful legs and exquisite, elongated neck, it is elegant in an entryway, a field of irises or a pond, and is piped for optional fountain use.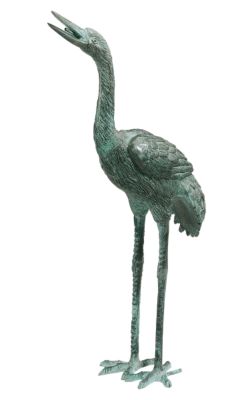 Small Straight Neck Bronze Crane